What is wind energy? Definition and examples
Wind energy refers to capturing the energy from moving air, i.e., wind, and converting it into electricity. Humans have been using wind energy for thousands of years. Historically, we have used it mainly for grinding grain and pumping water.
The term wind power means the same as wind energy.
According to the Global Wind Energy Council (GWEC), global wind energy expanded by 10% in 2017 to 539 GW.
National Geographic has the following definition of the term:
"Wind energy is produced by the movement of air (wind) and converted into power for human use."
"Wind energy is produced with wind turbines – tall, tubular towers with blades rotating at the top. When the wind turns the blades, the blades turn a generator and create electricity."
Wind energy – wind farms
When the wind turns the blades of a traditional windmill, for example, it spins a turbine inside a small generator. The generator produces electricity.
Traditional farm windmills can only generate a small amount of electricity. Perhaps enough to power some of the farmer's machines and also grind grains into flour.
To make enough electricity for whole communities, power companies need to build wind farms. Wind farms have many turbines.
The best place for a wind farm is in a flat open area. The wind must blow at 14 miles per hour (22.5 km/h) or more.
Humans have been using wind energy for a long time. (Left Image: gwec.net/media-center – Right Image: en.wikipedia.org)
Wind turbines
Wind turbines are devices that convert kinetic energy from the wind into electrical power, i.e., electricity. Kinetic energy is the energy that something has because it is moving. Kinetic means relating to or resulting from motion.
The turbine has blades, which turn in the wind at between thirteen and twenty revolutions per minute. Whether the blades revolve at a constant or variable speed depends on the turbine's technology.
Regarding how long turbines last, Spanish infrastructure management company Acciona S.A. says the following:
"Wind turbines have an average life of over 25 years, although the most widespread accounting criterion is set for periods of 20 years. Rapid evolution of wind technology has lead to an increase in the durability of wind turbines."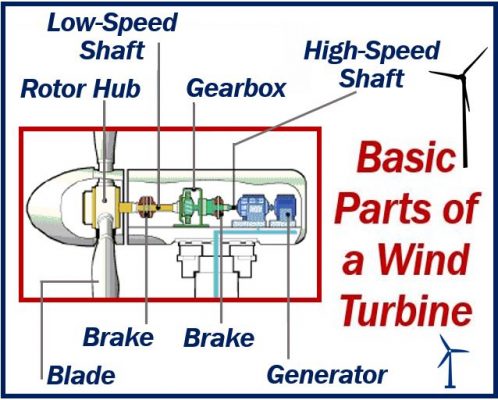 Wind turbines today are much more sophisticated than yesterday's windmills. (Image: adapted from researchgate.net)
Wind energy – the process
Below is an explanation of how a wind turbine generates electricity.
Automatic orientation
Wind turbines automatically turn so that they can face the wind. Then, they can take full advantage of the wind's kinetic energy.
The blades turn
When the wind reaches 3.5 meters per second (m/s) the blades start turning. It is at maximum power when it reaches 11 m/s.
If the wind is blowing at 25 m/s, for example, the 'feathered' blades slow down. Thus, the turbine avoids excessive voltages.
The gearbox
The gearbox converts the slow rotation of the revolving blades into high-speed motion. It turns the shaft rapidly enough to power the generator.
The gearbox turns the revolutions-per-minute velocity from 13 to 1,500.
The generator
The generator is like a huge, scaled-up version of a bicycle dynamo. When we ride a bike, the dynamo spins when it touches the back wheel. By spinning, it generates enough electricity to light up the bicycle lamp.
A similar thing, but on a much larger scale, happens in a wind turbine. The gearbox transfers its energy to the generator, which produces electricity.
Acciona S.A. explains what happens after the generator has produced electricity:
"The energy generated runs through the inside of the tower to the base. From there, the energy runs over an underground line to the substation, where its voltage is raised in order to inject it into the electrical grid and distribute it to the points of consumption."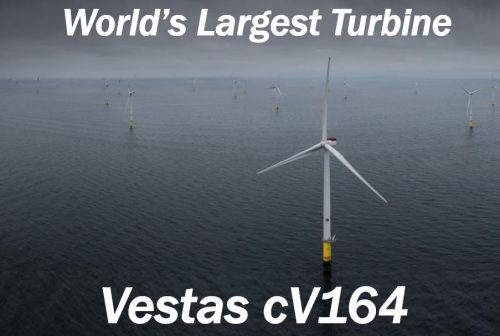 The UK's Walney Extension, located in the Irish Sea, uses several Vestas cV164 turbines. It is the world's largest operational offshore wind farm. It converts wind energy into electricity that supplies 600,000 homes. (Image: mhivestasoffshore.com)
Turbines of all sizes
Domestic turbines are just a few meters tall. Industrial ones, i.e., turbines that power companies use, can be enormous.
Vestas cV164
Danish company Vestas Wind Systems A/S has a turbine, the Vestas cV164, which is 720 feet (220 meters) tall. That is as tall as 2.35 Big Bens or Statues of Liberty!
The rotors of this offshore turbine have a diameter of 538 feet (164 meters). Each blade weighs 33-35 tonnes.
Since 2017, this giant turbine has had a capacity of 9.5 MW.
Wind energy – renewable energy
Wind energy is renewable energy. Renewable energy is energy whose source never runs out; we can never use it all up. We can never use it all up, that is, in a human timescale.
Wind, sunlight, the sea, and rivers, for example, are always there. That is why we class solar energy, hydropower, and wind power as renewable energy.
Hydropower uses power from moving or falling water, which is always available. Tidal power is a type of hydropower.
Geothermal energy is also renewable energy. Its source is the Earth's internal heat, which is always available.
Humans have been burning wood to cook their food and heat their homes for thousands of years. We call this type of energy biomass. Biomass is also renewable energy.
Investment in solar energy and wind power has increased significantly over the past thirty years.
If we built giant solar and wind farms in the Sahara, we would have more electricity than the world needs.